For six generations Augusto Dias Carneiro's family has been growing internationally renowned coffee on their farm in Brazil. His great-grandparents started the sustainable cultivation of the fertile soils in 1890. With a move to Portland, Oregon almost 100 years later, Augusto started Nossa Familia Coffee as an extension of the family coffee operation in Brazil. Nossa Familia roasts beans harvested exclusively from the family farm and sells coffee to wholesale and retail clients in the Portland area.
When Nossa Familia contacted Engine 8 to design a new signature coffee bag, we jumped at the opportunity. All branding is about storytelling and Nossa had a vibrant story steeped in family tradition. In today's age of fabricated brand mythologies, the authentic tale of Augusto's family business is nothing less than extraordinary.
After being in business for over ten years, Nossa realized it was time to take their branding efforts to the next level. Portland rivals Seattle for being a serious coffee town with plenty of devoted espresso fiends. The crowded coffee scene along with some of the best graphic design talent in the country makes Portland a sophisticated, highly competitive landscape.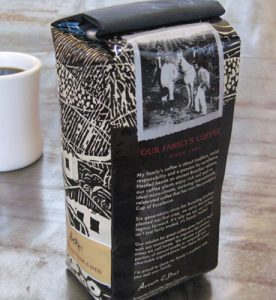 Engine 8 knew designing a coffee bag that could compete in Portland's cut-throat coffee roasting industry was a tall order. Whatever we designed needed to not only compete visually but differentiate the Nossa brand from heavy hitters like Stump Town and Starbucks.
The one asset Nossa had that couldn't be touched by the corporate giants was a genuine family connection — stewardship of the land that reaches back to the 19th century. Unlike most coffee roasters, Nossa doesn't source beans from random brokers. They tend to the coffee plants using sustainable practices, nurturing the beans ever step of the way until they end up in the consumer's cup.
The new coffee bag design needed to be an extension of that deep coffee heritage. Engine 8 used a woodcut rendering of the family farm in Brazil, created by a family member, as the anchor of the bag design. Using the artwork as a visual tapestry, we developed a vibrant design that symbolizes those Brazilian farm roots.
The new Nossa packaging design was a success. Not only were Augusto and his staff thrilled with the new coffee bag, but the design passed the ultimate test — retail sales jumped significantly when the new design arrived on retail shelves.
A big thanks to Augusto, the uber-talented Mitchell McInnis and everyone at Nossa for a first-rate collaboration!
To learn more about Nossa Familia Coffee or to order your beans direct, visit the Nossa website.
Looking to reinvigorate your product packaging? Call Engine 8 Design at 406.222.7566 to get started.
© 2011 Engine 8, Inc | Reproduction of this content is prohibited without permission. Linking to this article is allowed with appropriate credit.